The redesigning of the homepage has sort of taken away time from adding new features, but fear not because more updates are on the way. I'm working on a list of what I am considering adding to the site, but first I'd like to explain an oft-requested feature I added recently:
a simple timer that can be used for hourly services
.
The timer can be used when editing services that are attached to projects. Edit or create a service on a project and look to the right of the Quantity box: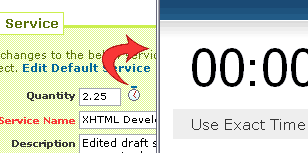 Opening the timer will automatically start the time. The timer itself has five buttons, three control the function of the timer and two control how the time is recorded back onto the corresponding service: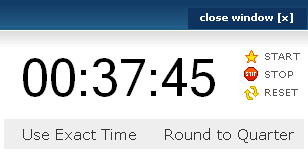 If you have a quantity already listed and you open the timer, the time that it records will be added to that time.
The timer icon will be available regardless of whether the service is by item, weekly, monthly, etc. but it's only useful when charging hourly.
UPDATE:
Kevin Wetzels
, the maker of the
free and most excellent Drunkey Love icons
that Side Job uses, created a brand new stop watch icon that makes this feature's purpose more obvious.
Thanks Kevin!